Purebred Chinese Crested is a unique and old dog breed with two varieties (Hairless and Powderpuff) that dates back to the 1400's as shown by their depiction in various paintings and drawings during that era. No one knows exactly where the first purebred Chinese Crested dog (or the first hairless dog, for that matter) came from. Some speculate Africa, others Asia, and still others Mexico; but what is known for sure is that the hairless Crested resulted from a genetic mutation or mistake. Other genetic mutations occur within populations of animals, but the hairless Chinese Crested resulted from a mutation in a long-coated breed. The Chinese Crested's hairless trait was propagated, and eventually the Chinese Crested became the dog it is today. Recent DNA evidence shows that the Chinese Crested foundation may have originated primarily from Terriers with an infusion of soft-coated dogs.
By 1979 and 1980, there were a few established breeders of purebred Chinese Crested dogs: Hazel Willard (Phaedrian), Jenny Tall (RiverCrest), Wally Swett/Ken Oberg (Mordor), Dick Dickerson (Dickerson), and Ginette Perez (GiPez). During the 1980s, an early group of fanciers under Dick Dickerson's guidance founded a club specifically dedicated to the Chinese Crested breed: the American Chinese Crested Club. The goal of the club was to promote the Chinese Crested breed, educate society about them, and obtain full purebred status with the American Kennel Club. In February 1986, the AKC accepted the Breed Standard that the club had submitted, and the Chinese Crested entered the Miscellaneous Class. The AKC required the breed club to modify certain aspects of the Standard in order for the breed to become fully recognized. One example was that Powderpuffs had to have erect ears, as did the Hairless. There were also different styles of Chinese Crested; the refined and delicate type, resembling a little fawn (known as the deer type), and a lower-to-the-ground, stockier body type, (known as the cobby type), which were combined into one body style that we know today. On April 1, 1991, the Chinese Crested achieved full purebred status and was eligible to compete in the Toy Group.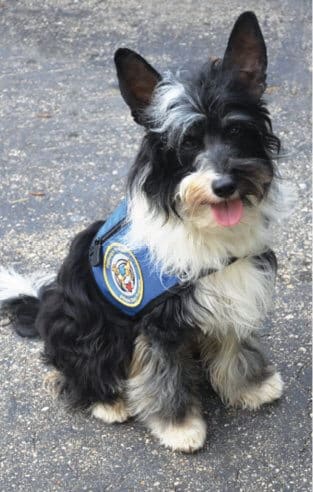 With respect to breeding to the Standard, the original Chinese Crested Breed Standard had a few key points that made Chinese Cresteds a special and unique breed. First and foremost, "the Hairless variety" meant that the Chinese Crested was a real hairless dog, with hair only on the head, feet, and tail. No trimming of hairless dogs was accepted, not even on the face. They were completely natural, with soft, baby skin that felt like porcelain. They were not allowed to be hairy Hairless groomed to appear hairless. The "Powderpuff variety" was the opposite, fluffy as can be.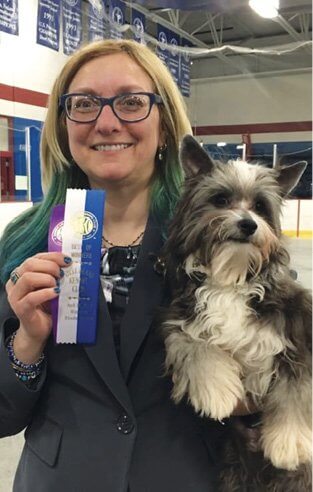 The Powderpuff was the completely covered counterpart, having the same structure but with untrimmed hair. The hair was soft and silky, but never kinky or curly. Minimal grooming for cleanliness was desired. Second, the Chinese Crested was a rectangular, long-backed breed that was a Toy size. Over 14 inches was considered too large. Third, they had to have hare feet and elongated toes so that they could curl their paws and hold objects as if they had hands. Fourth, the head had to be a pleasing wedge. Shortness in muzzle and broad backskulls were not favored, even if they were considered to be cute. The temperament of the breed was described as "terrier-like but never noisy or aggressive."

The old Standard allowed for differences between the Hairless and Powderpuff varieties. For example, ears had to be erect in the Hairless, but Powderpuffs had been allowed to have dropped ears. ThePowderpuff had to have complete dentition while the Hairless were often missing teeth.
Now, after 42 years in the breed, some significant changes have been observed. Dogs that are clearly not hairless are being passed off as such. A DNA test for the Forkhead Box I3 gene (FOXI3) supposedly tests for hairlessness; but in many cases, the dogs have thinner coats and poor dentition without any areas of hairlessness. Too often, these dogs are shaved to the skin and represented as the Hairless variety. This activity continues to be an area of controversy. It takes little imagination to realize this practice leads to poorly-coated Powderpuffs with poor dentition being passed off as Hairless (or in extreme cases, normal Powderpuffs shaved to look hairless).
It was believed that the Hairless Cresteds were kept as the treasured pets of Chinese emperors and that they had healing powers. If you had an ache or pain, simply place a Hairless on the pain and the "higher body temperature" of the Crested would eliminate the pain. Contrary to this belief, Cresteds have a normal dog body temperature. It is only because they have no insulation that their body heat radiates out of them, giving them a portable heating pad effect. It was also believed that the dogs were used as ratters on ships because their prehensile paws allowed them to hold and grip their prey, and their "terrier-like" behavior helped them to shake the rat to death. But whatever purposes they were used for in the past, today they are wonderful little terrier-like dogs with big personalities. They are highly intelligent and, if one puts in a small amount of time to explain what is expected of them, purebred Chinese Crested dogs can achieve a great deal.
It was believed that the Hairless Cresteds were kept as the treasured pets of Chinese emperors and that they had healing powers.
Purebred Chinese Cresteds can do many things, but they are especially wonderful as therapy dogs. They are small but not breakable, very cuddly, and do not shed. These attributes enable them to sit on the laps of the elderly and to entertain small children. Being active and intelligent, the Crested can be taught many tricks and Obedience commands. Their size makes them portable. The late Sister Pauline Quinn, a Dominican Sister, recognized the Crested's love for people and focused their eager attitudes to make them Service Dogs. Sister Pauline established the first prison program where dogs are trained by the prisoners to help the handicapped. In 1991, she obtained her first Powderpuff Crested (Little Joseph vGingery, aka "Joey"), and made him the first Crested to be used in service work as a Hearing Dog. Joey paved the way for other Cresteds to help and assist the disabled. Today, "Andromeda" (Seizure Dog) and "Beamer" (Hearing Dog) are performing services. Fidos for Freedom, a Hearing Dog organization based out of Maryland, has also used Chinese Cresteds. Quick, fast, alert, and smart, the Chinese Crested can answer the call of a crying baby or warn their hearing-impaired owners of fires or other dangers.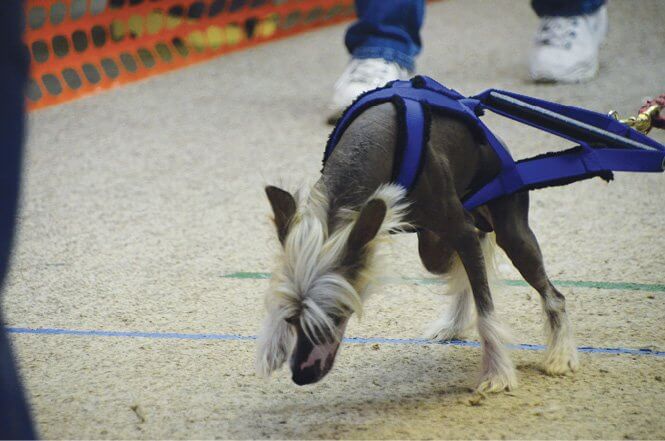 Other Chinese Cresteds have found their niche in Flyball, Tracking, and Agility competitions. "KayDee," who is owned by Lauralie Mcguire, competes in the North American Flyball Association trials. In March 1998, two-year old "Sprite" earned her first Tracking title, and a year later, she earned her Tracking Dog Excellent title with trainer Wendy Wallace. Sprite's full name with titles is Gingery's Phenomenon CGN PCD CD CDX CGC AgN AgNJ CDN2 FDN FDNT RN RA RE TD TDX and, with titles bigger than her, she really was a phenomenon.
The sport of Agility has taken over the dog world and is a very competitive activity. A Powderpuff was competing in Agility before it became a full-fledged AKC sport, but when it did, the Cresteds started running and jumping and weaving in and out of poles. There are many MACH Cresteds, but the first one was a Hairless named Ch. Luvan Trouble Is My Business CD, owned by Barbara Majka and bred by the late Jean Scott.
The sport of Agility has taken over the dog world and is a very competitive activity.
Obedience competition, like the other Performance Events, requires a special bond between dog andowner. Chinese Crested Powderpuff OTCH Prezemeks Mr Mojo Risin UDX, aka "Jack," was bred by Margaret Supronowicz and owned by Marsha Smith. Jack is the breed's first Obedience Trial Champion. Later, Marsha competed with another OTCH dog, "Laars" (Gingery's Dramatic Mojo), who became only the second OTCH in breed history and was ranked No. 1 in the Toy Group the year he was campaigned.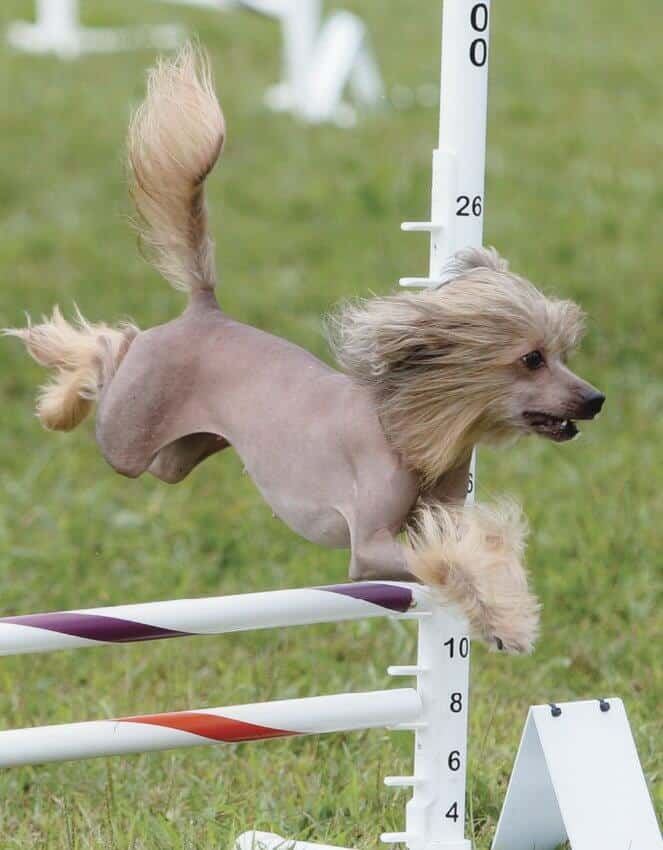 The most interesting and controversial activity for Cresteds is Weight Pulling. This is normally a sport that is done by the Working or larger Terriers, such as Pitbulls, but it has been embraced by Cresteds as well. In Weight Pulling, the dog is hooked up to a cart with a harness. The dog cannot be touched, led, or fed by their owners, but the owners can talk to their dogs. Bottom line, the dogs have to want to do it or nothing will happen. The first Crested to win a UKC Total Dog award with Weight Pull is Ch. Gingery's Terrapin, owned by Dana Ferry. He pulled over 55-times his body weight and also auditioned on America's Got Talent as "Toby the Strong."
Most of the time, Cresteds are seen in larger numbers in the Conformation ring. The Chinese Crested Hall of Fame is a document established to keep detailed records of the Chinese Crested's accomplishments within the AKC. Special thanks to Jennifer Johnson who is the current Keeper of the Hall of Fame. The Hall of Fame contains a chronological listing of the breed's Best in Show winners, National Specialty winners, champions, and breeding awards. It has expanded to include Obedience and Agility statistics as well. Some notable firsts include:
First Champion in AKC: Phaedrian's Razzmattazz With Spice (Powderpuff)
First Sire of Distinction: Gingery's Maple Syrup (Powderpuff)
First Dam of Distinction: Sol-Orr's Ten-A-C Walker (Hairless)
First Best in Show Winner (Hairless): Darshire Sun Nee Dal Of Luvan
First Best in Show Winner (Powderpuff): Gingery's Maple Syrup
First National Specialty Winner AKC: Razzmatazzmanian Stripper
First Westminster Best of Breed Winner: Gingery's Maple Syrup
It is clear from the breed's accomplishments in both Performance and in the Breed ring that the purebred Chinese Crested is not just the average Toy Dog. They serve as excellent companions and love lap-living, but ask a Crested to do something and it will rise to the occasion. Living with them is always an experience, since they are comical and cute, playful and mischievous, and very inquisitive. Cresteds enjoy the company of people and should never be shy or nervous. Of course, their size (and their sometimes-fragile appearance) can lead to them becoming spoiled housepets. Some actually control their people by manipulation in order to get their own way, but if you treat them like the big personalities they are, Cresteds will be your best and faithful friend for many, many years.
Spotlight on the Purebred Chinese Crested Dogs
By Arlene Butterklee